How to Get Everything You Want from Others
"HLM Tenant Turned Millionaire Reveals:

How
Get
others
Anything You Want"
If you've always wanted to understand how and why some people get everything they want from others and are practically as popular as Yannick Noah after a concert, then you'll love this letter.
Popularity is learned in the same way as cooking or fishing.
You can become liked by everyone in a systematic and almost magical way. It doesn't matter where you are or who surrounds you.
The subtle art of popularity is a real science that some companies buy millions to train their executives and representatives.
Brands as well-known as they are powerful have understood this for a long time: their members must learn to be appreciated by as many people as possible to further increase their success.
This is how Peugeot, Renault, SFR, Apple, Coca-Cola or Microsoft regularly offer their staff intensive training which costs real fortunes.
The good news is that you are about to discover all the secrets that are being taught to those privileged people -- who jealously guard this knowledge.
And the best part is that you'll get it all for a tiny fraction of the normal price.
Here are some techniques that you will soon master:
✔
How to Make People Irresistibly Want to See You Again After a Few Moments First Date
✔
How to handle embarrassing situations without losing the respect of your interlocutor
✔
How to make your interlocutor not listen to anyone but you
✔
How to get people to do what you want - and love doing it!
I'm taking advantage of this offer now
You can learn these techniques - and many more - in a few moments without leaving the comfort of your chair and without taking any risks.
"Those who know how to influence men possess
a quality that I am willing to reward more
than any value under the sun"
-- John D. Rockefeller
Popularity will make you a valuable person. You will be someone whose opinion counts for tens, hundreds, even thousands of people.
And that, dear reader, is a quality worth a fortune!
The famous businessman John Rockefeller understood this perfectly, he considered that those who know how to make themselves popular have an enormous quality: that of influencing men .
The greatest psychologists, the greatest doctors and the greatest minds in the history of Mankind have always considered that being popular and appreciated is a greater and more useful quality than any other.
Being popular is more important than being competent, smart or hardworking.
To be popular is to be on top of the human world.
At this stage of the explanation, I must honestly admit that if I did not know the content of this method, I would be quite skeptical. So if you are too, I'm asking you to suspend judgment for a moment longer.
The rest of what you are about to discover should reassure you.
Being popular is extremely enjoyable and rewarding

Instead, imagine: wherever you appear, people flock to you to enjoy your company. You receive sincere smiles and compliments. You feel the respect you command. It is your opinion that matters more than any other. You have become the reference.
Being popular is extremely enjoyable and rewarding. You no longer have problems finding work: you have to turn down tons of opportunities. You no longer have money problems, you are better paid than ever. You are never alone again, people would be almost tempted to pay for the privilege of spending time with you.
Consider the value of the teachings you are about to discover. Consider their benefits and impact in every minute of your life.
With a phone call or an email, someone popular can access unlimited intellectual, relational and financial resources.
And normally this type of education is only accessible to an elite ready to pay up to 9,000 euros to participate in a 5-day residential seminar.
But you, you are about to learn all these secrets for... only 27 euros.
A sum all the more ridiculous that you will benefit in addition to a guarantee in galvanized steel.
How do you get everything you want from others ?

Thanks to this course and in just a few moments, you will know:
✔
How to Introduce Yourself to Strangers in a Way They'll Never Forget You
✔
How to Establish a Unique and Emotional Relationship in Moments
✔
How to win the friendship, loyalty and help of your colleagues
✔
How to magnetize the attention of your interlocutors
✔
How to get your point of view across as the best
✔
How to Persuade Anyone Without Raising Your Voice
✔
How to conduct a conversation masterfully, without being interrupted or contradicted
I'm taking advantage of this offer now
"And To Solve My Problems At Work?"


Even your most recalcitrant colleagues and your most unpleasant superiors will not be able to resist you.
When you have this course in your possession, here is what will happen at work:
✔
You will present your ideas to your superiors in such a way that they will almost always be adopted.
✔
You will know how to pass in front of the most favored and the most "boosted" of your colleagues.
✔
You will be able to handle objections. People will stop saying 'no' to you and it will be nice for them to say 'yes' to you.
✔
Your compliments will be 2 times more effective than those of any of your colleagues.
✔
You will know the well-kept secret that will make you a respected, envied and copied colleague.
✔
Your colleagues and superiors will follow you in all your initiatives in an almost magical way.
But that's obviously not all. It's not just at work that it's useful to get what you want from others. The secrets that you will learn in 3 or 4 hours of time will also allow you to elevate yourself socially.
How to Rise Socially
in the midst of a crisis
You will know how to get out of sticky situations that could normally escalate and break a long friendship or undo years of hard work .
You will know how to calm a man - or a woman - without raising your voice . Your natural authority will grow exponentially. No one will resist you.
When your spouse, children, or a friend is angry, you'll be able to control their outbursts without saying anything and even getting an apology .
You will completely subdue the most unpleasant of individuals, the one who criticizes everything, all the time and who knows better than everyone. And you will be able to achieve this in a few moments .
You will no longer have a problem with upstarts, those who think they have come out of Jupiter's thigh and who talk loudly. Even the most zealous city police officer will not be able to resist you.
So what about your neighbors who have been making a hell of a racket for so many years, who are rude and disrespectful? When you have read this book and if you apply the simple and precise methods it contains, you will be pleasantly surprised to find that your neighbors have become normal people again, who do not make a fuss and who offer their help when you work in the garden.
You will be able to control without insulting people who talk too much and wear you out by not letting you "place one".
Controlling a man, or even a group of men, will be as easy for you as if you were the general commander of an army conditioned to obey orders.
Insults towards you will turn into excuses. Reproaches into compliments. The unsaid in sincere words and the low blows will fade away to give way to an unwavering loyalty.
"Wow! I Am Interested In This Program.
What will I get?"


"How to Get What You Want from Others"
The book, the Audio-book and its Logbook
If this program interests you then you will be absolutely charmed when you know the quality of the bonuses you will receive.
You will first receive the ebook "How to Get Others What You Want". This ebook has 102 pages, 13 chapters, each more interesting than the next, and can be downloaded in less than 60 seconds.
You will also receive an audio recording of this book. That is to say that we have recorded the entire reading of this work so that you can read it and listen to it at the same time. It's the best way to absorb new information so you'll never forget it again.
We have also prepared a logbook for you. This is a very practical exercise book that will allow you to check if you have properly assimilated the new concepts to which you will be exposed. You will discover 12 simple, precise and effective exercises.
In addition, if you act quickly, you will receive a complete 25-minute video training as a gift to learn how to make even more friends and especially to build quality links thanks to Facebook.
Even if you've had a Facebook account for a long time and think you've mastered all of its secrets, you still have a lot to discover! Real tricks and pro secrets that few people know.
Facebook is a real "eldorado" for anyone who wants to increase their popularity, reputation and influence. Whether for personal or professional use, Facebook has undoubtedly become a reference tool.
In this video, you will learn in record time not only how to make the most of the power of Facebook, but also how to increase your popularity and be able to share your passions with many people.
In less than half an hour, this video will teach you everything you need to know to find new friends and bond with them:
✔
The 2 golden rules to maximize your chances when asking someone as a friend
✔
The astonishing discoveries of 2 researchers from Harvard University, which will give you all the keys to finding (and keeping) precious friends or partners
✔
The 7 infallible tricks to grow your list of friends
That's not all, you will also discover:
What is the most effective way to create contacts on Facebook?


How to differentiate yourself from the rest of the Facebook community


How to get all the possible benefits from your friendly network?


How to use your passions to boost your popularity?


How to "pamper" your important contacts (business relations for example)?


How to flush out people with whom you are sure to get along well in a few seconds?


Please note that quantity is not everything! This training also contains 10 secrets of the pros to improve the quality of your Facebook relationships and make you a master of social networks.
Read this book from cover to cover.
Listen and replay the audio as much as you like.
Watch the video training from the comfort of your living room.
Do the exercises in the logbook.

And if you don't get the expected results,
you keep all your gifts and you ask
a full refund.
I'm taking advantage of this offer now
As a reminder, the investment in this program -27 euros- represents a very small part of the total value of the pack that you will receive. The book alone could very well sell for that price. Plus, you'll get the full audio, workbook filled with exercises, and a mini-training video to learn how to get everything you want from Facebook members.
You might be wondering, how does the warranty work?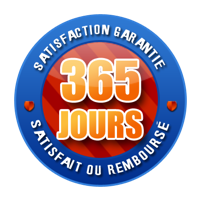 It is very simple. You take no risk, all the risks are with us .
Judge for yourself: you download the ebook, the audio, the logbook and the training video in a few moments.
You study everything, do the exercises, listen and re-listen to the audio at will, you watch the training on Facebook as many times as you want and then you test the method.
You can then request your full refund, without having to give any justification.
As all this is digital, I cannot ask you to return the program to me. And I know that some could keep everything, enjoy it, and get reimbursed.
But I'm so certain of the quality of what I'm offering you that I'm taking the risk.
If you don't get concrete and surprising results, you have 365 days to claim a full refund.
You will find all of your 27 euros by return mail.
And of course, you will keep the training ebook, audio and video.
There you go, you know almost everything. We can't do better than that: you risk nothing but a few hours of your time to become both popular and irresistible.
Act now to download your pack in a moment.
I'm taking advantage of this offer now
PS the best part is that you don't know everything that will be revealed to you in this pack... See instead:
In the book "How to Get Others What You Want"
"Your Worst Enemy in Human Relations" and How to Beat It! PAGE 4





The essential tool – and ultra-powerful – to become a master of communication! PAGE 4





The major mistake of bad communicators and which will only win you enemies! PAGE 6





"Real walking bombs in your relationships with others if you can't manage them"! PAGE 7





If you add this (PAGE 7) to your conversations, you will make anyone agree to anything!





One of the most powerful – and most misused – secrets of influencer communication! PAGE 7





You will easily make your arguments heard by – almost – anyone if you are always...! PAGE 8




How do you "pop the pill" every time when you have something hard to hear to say? PAGE 8





"What can transform conflicting relationships into real dialogue"! PAGE 9





The "magic" question to ask yourself each time someone's words seem disproportionate to you! PAGE 9





"The only way to communicate healthily and honestly with those around you"! PAGE 10





What you must do - urgently - whenever you sense a conflict coming ---- and you will defuse it! PAGE 10





"This simple expression can magically defuse the most virulent conflicts"! PAGE 11





One of the simplest and most effective ways to avoid the misunderstandings that poison your relationships! PAGE 11




The 5 rules of listening that you absolutely must know to become an Ace of communication! PAGE 11





"An infallible way to defuse conflicts"! PAGE 11





"It is not a major difficulty to bring your entourage where you want them to go" if you know this: PAGE 12!





How do you make your lyrics appealing to others and make them want to follow you? PAGE 12





"To get others to follow you in the direction you want, there is only one effective method: ..."! PAGE 13





The "magical" knowledge that will allow you to accept everything – and everyone! PAGE 13





The amazing secret to becoming irresistible to others --- if you know it, people will happily follow you! PAGE 13




How to easily find out what motivates others---to use it for your benefit! PAGE 13





Discover the secret of bosses who have "the art of communication"! PAGE 14





"Getting cooperation from others is child's play!" " How ? PAGE 14





A mind-blowingly effective trick when you want to convince someone to do something for YOU! PAGE 15





The ultra-powerful communication tool that fools see as a sign of weakness! PAGE 16





The times when you absolutely have to be quiet---or what you say will spell disaster for sure! PAGE 16





The one and only really effective method to talk about annoying subjects --- without triggering conflict! PAGE 17




What you should never, but then NEVER do when you want to bring up a personal and sensitive subject with someone! PAGE 18





The 6 essential rules for addressing delicate questions without ever getting angry with your interlocutor! PAGE 18





The little lies very useful in difficult situations --- their mastery will make you a champion of communication! PAGE 18





"A crucial point for anyone wishing to improve their relationships with others"! PAGE 19





The secret that will allow you to trigger a reflex of sympathy --- and this reflex is totally unconscious! PAGE 19





Do this (PAGE 19) and others will love you – even if they don't know why!





How to trigger any emotion in anyone in the blink of an eye --- the secret of the masters of manipulation in the service of healthy communication! PAGE 20




The awesome habit common to ALL great communicators---and how you can learn it! PAGE 20





6 extra-powerful tips to develop the magical attitude of natural charmers! PAGE 21





The people you have to avoid like the plague --- they don't get you anything and prevent you from becoming a communication whiz! PAGE 21





"One ... can completely change the way the other will accept your words" and all communication specialists know it! PAGE 21





The "detail" you must never forget --- it will make your relationships 1000 times more fruitful! PAGE 23





What people – all people – want to feel when they're with you! PAGE 23





The irresistible urge of everyone you meet---it's a secret spring to do with it whatever you want! PAGE 23




The "secret ambition" that all human beings share --- and which will allow you to become an Ace of human relations! PAGE 23





How Maslow's famous pyramid can turn you into a real friend-making machine! PAGE 23





"The most important goal for the worker" --- if you help him, he will be grateful to you forever! PAGE 23





"Ignoring this vital need (PAGE 24) leads you to make serious behavioral errors"!





"By taking this aspect of things into consideration, you will have no trouble reaping great social success"! PAGE 24





The secret that will transform your relationship with a difficult teenager – even if it is VERY difficult! PAGE 25





Why are the best salespeople so effective --- and how can you use their secrets in your relationships? PAGE 25




"Granting... to the other will give you the most beautiful relational successes that one can dream of"! PAGE 25





How to instantly make someone important --- and easily become their friend or ally! PAGE 26





The secret to immediately making any relationship warmer and more personal! PAGE 26





If you worry about this (PAGE 27) you will become a respected communicator and adored by those around you!





What no one will NEVER forgive you for --- don't forget it in your relationships! PAGE 28





And you, do you confuse politeness with indifference? Check it out immediately on PAGE 28 and never make that terrible mistake again!





A detail that may seem insignificant but that will multiply your friends – and your fans – by 100 in a few weeks! PAGE 29




What your coworkers won't forgive --- learn never to by reading PAGE 30!





What you absolutely need to know about conflict --- even if you've been told otherwise 1000 times! PAGE 30





How to easily avoid conflicts without ever "crashing" for as much? PAGE 30





The 2 sources of relational conflicts --- and how to manage them 10 times more effectively! PAGE 31





The source of 99% of conflict---and how you can "nip it in the bud"! PAGE 31





The 7 categories of "conflicting" people and how you can manage them very easily! PAGE 31





The 4 phases of a conflict – and how to defuse it as soon as possible! PAGE 32




The 4 golden rules of conflict management --- and the means to master this delicate art! PAGE 33





The 3 most common attitudes in conflict management --- and why you should never adopt them! PAGE 33





The only really effective and profitable attitude when you have to manage a professional or personal conflict! PAGE 33





The almost inevitable biases that poison your relationships---and how to banish them from your life! PAGE 35





"A fundamental element of life in society" that the masters of communication handle brilliantly, even if it's "old game"! PAGE 35





4 rules of good manners essential to those who want to become communication aces! PAGE 36





The attitude that will make you look like an aggressive person --- even if you're not! PAGE 36




What you should NEVER accept in your relationships --- no matter what! PAGE 37





The limits you absolutely must learn to set in your relationships --- you will be loved and respected! PAGE 38





What you need to do now if you often have trouble convincing those around you to follow your instructions! PAGE 38





How to quickly become as effective as born leaders? PAGE 38





"The basics of the art of ordering without seeming to" and how to acquire them easily! PAGE 38





How to "lead anyone without having the official role of leader"? PAGE 38





"Why Are There Bad Managers" and How to Become a Great One! PAGE 39




The 4 golden rules of the most effective managers – respected and loved by their subordinates! PAGE 39





The secret to getting anyone's full cooperation---and it's amazingly easy! PAGE 39





"A very effective method to get people to do what you want, without them even realizing it"! PAGE 39





How to get your ideas accepted EVERY time --- if you do, it works 100% of the time! PAGE 39





How to get a "yes" every time you need it---one of the best-kept secrets of the masters of persuasion! PAGE 40





Socrates' brilliant technique for making anyone – or almost – accept anything! PAGE 40





How do you get someone to say "yes" – consistently and without them even realizing it? PAGE 40




The secret so that you will never be told "no" or almost! PAGE 40





How to easily induce support with a simple sentence of 3 "magic" words! PAGE 41





The secret of the best door-to-door sellers to ensure 95% sales! PAGE 41





The human particularity that you absolutely must know and master if you want to communicate like a "pro"! PAGE 42





The incredible skill that all of the great leaders on this planet share---and how you can learn it too! PAGE 43





5 techniques to use empathy to your advantage – and become a master of persuasion! PAGE 43





"By developing your..., you will find that others will respect you more and listen to you more carefully"! PAGE 43




"Great leaders are able to mobilize people towards a common goal. Their secret? » PAGE 43





"The best way to present your arguments, your ideas, your desires" so that they are always accepted! PAGE 45





Do this (PAGE 45) and "no one will forget what you just said!" »





"Some great communicators have become masters in the art of presenting ideas in attractive forms and thus attracting the support of the public" How to do the same? PAGE 45





How do you make others want – an irresistible urge – to listen to you and come around to your point of view? PAGE 45




The Power of Audio Persuasion

Studies prove it: the human brain learns better when it is offered 2 ways to learn.

Reading is good. Reading and sound is better!

How to use this trick for YOUR benefit to develop your memory?

The "How to Get Others What You Want" program includes a full reading of the ebook you receive in the pack.

You can listen to this recording on your computer, on your MP3 player, your smartphone or on audio CD.

Every sentence in the book will stick in your mind, and instead of reading -- and forgetting, you'll listen, and it will stick in your mind.

And what is in your mind turns into action, so you can better assimilate the tips and tricks that will allow you to acquire the right reflexes and to say the RIGHT words to obtain absolutely everything you want from others.